Orange County Project
April 21, 2022 3:36 pm
The Gulf Coast Protection District (GCPD) is excited to be partnering with the US Army Corps of Engineers (USACE) as the non-Federal sponsor on The Orange County Project. This partnership means that the design and construction costs will be shared between these entities (65% Federal / 35% non-Federal), with USACE being responsible for managing design and construction, while the GCPD will operate and maintain the system once complete.
The Specific features authorized for design and construction as part of the Orange County Project include:
Approximately 15 miles of new earthen levees
Approximately 10 miles of new concrete floodwalls
Approximately 50 gravity drainage structures and seven new pump stations, providing interior drainage for areas behind the levee/floodwall
Approximately 30 closure structures located at road and railroad crossings
Two navigable sector gates, with adjacent vertical lift gates, at Adams and Cow Bayous
Restoration of approximately 450 acres of coastal marsh and 560 acres of forested wetlands, as mitigation for the project's unavoidable environmental impacts
From USACE: "We could not do any of this without the support of both Orange County and the Orange County Drainage District which will be actively engaged with the GCPD in coordinating the project design.
"As we begin the next phase of this project, we want to hear from you. The US Army Corps of Engineers, in coordination with the Gulf Coast Protection District, Orange County, and the Orange County Drainage District, has begun proactively reaching out to stakeholders in the Orange County area to raise community awareness about the project, answer questions and concerns, and provide information about project construction plans. We will be holding three events to provide information to the public and seek comments on the project and we hope you will join us."
Upcoming Public Open Houses
Tuesday, April 26, (5 p.m. - 8 p.m.)
Bridge City Community Center
105 Parkside Drive
Bridge City, Texas 77611
Thursday, April 28 (5 p.m. - 8 p.m.)
American Legion Post 49
108 Green Avenue
Orange, Texas 77630
Saturday, April 30 (10 a.m. - 2 p.m.)
Orange County Convention and Expo Center
11475 FM 1442
Orange, Texas 77630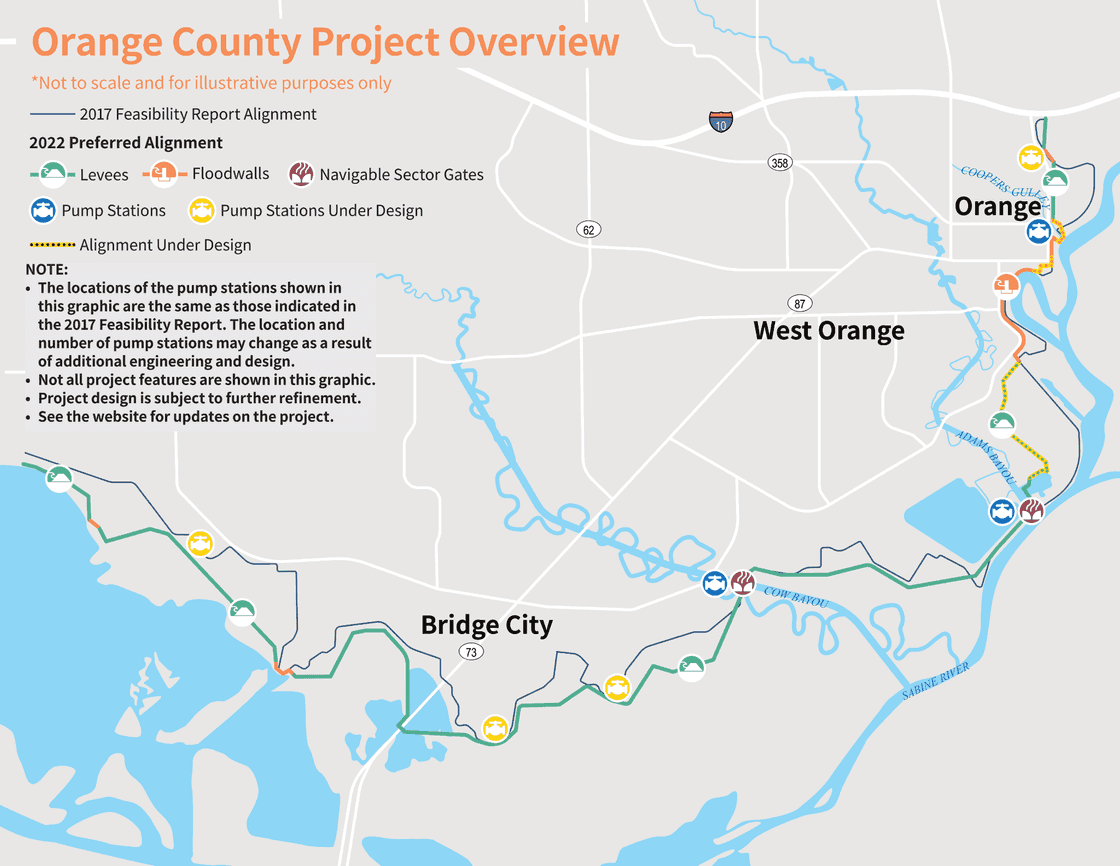 This map shows the preferred project alignment, as of March 2022. The project alignment will continue to be refined over the coming months, along with the design of all project features.
As the non-Federal sponsor, GCPD will be responsible for acquiring all the lands, easements, and rights of way needed to construct the project, in addition to relocating any utilities and facilities impacted by the project. Through all of this, the project is being designed to reduce the risk of flooding from a coastal storm surge, while not increasing the impacts from local rainfall flood events within Orange County.
If you have any questions or comments, you can reach out to us at: S2GOrangeCounty@usace.army.mil
For more information about the Orange County Project, please visit the project resources provided below:
Project Website: https://www.swg.usace.army.mil/S2G/
Project Story Map: https://sabine-to-galveston-usace-swg.hub.arcgis.com/